next CLASSES START ON March 26, 2023
Concussion:
The Patient Rehabilitation Journey
20 or 40 Hours of CE in All 50 States 🇺🇸 | PT, OT, & ATC
On-Demand + Virtual Live Courses Offered Quarterly
12 Weeks
Online
Approx. 2-3 hours per week
US $697 | $997
Accepted in 50 States
for PT, OT, and ATC*
Accepted in 50 States
for PT, OT, and ATC*
Flexible payment available.
NEXT 💻 ON-DEMAND COHORT March 26, 2023 - June 25, 2023
Educational Programming Comparisons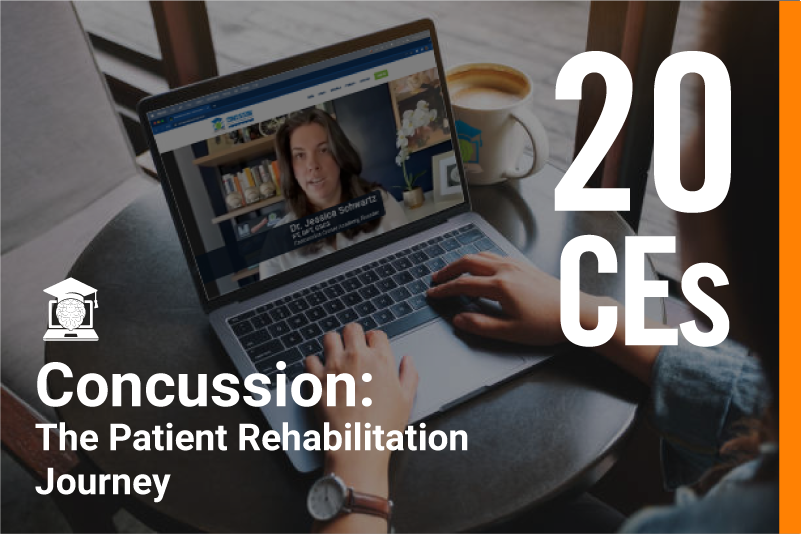 💻 Essential
On-demand content with weekly dripped lectures



Start Dates:
Jan | Mar | Jun | Sep
$697
20 CE Hours

Course Length: 12 Weeks

Pre-Recorded Lectures

Course Pacing: Dripped Weekly

Workload: 1-2 Hours per Week

Post-Course Access: 30 Days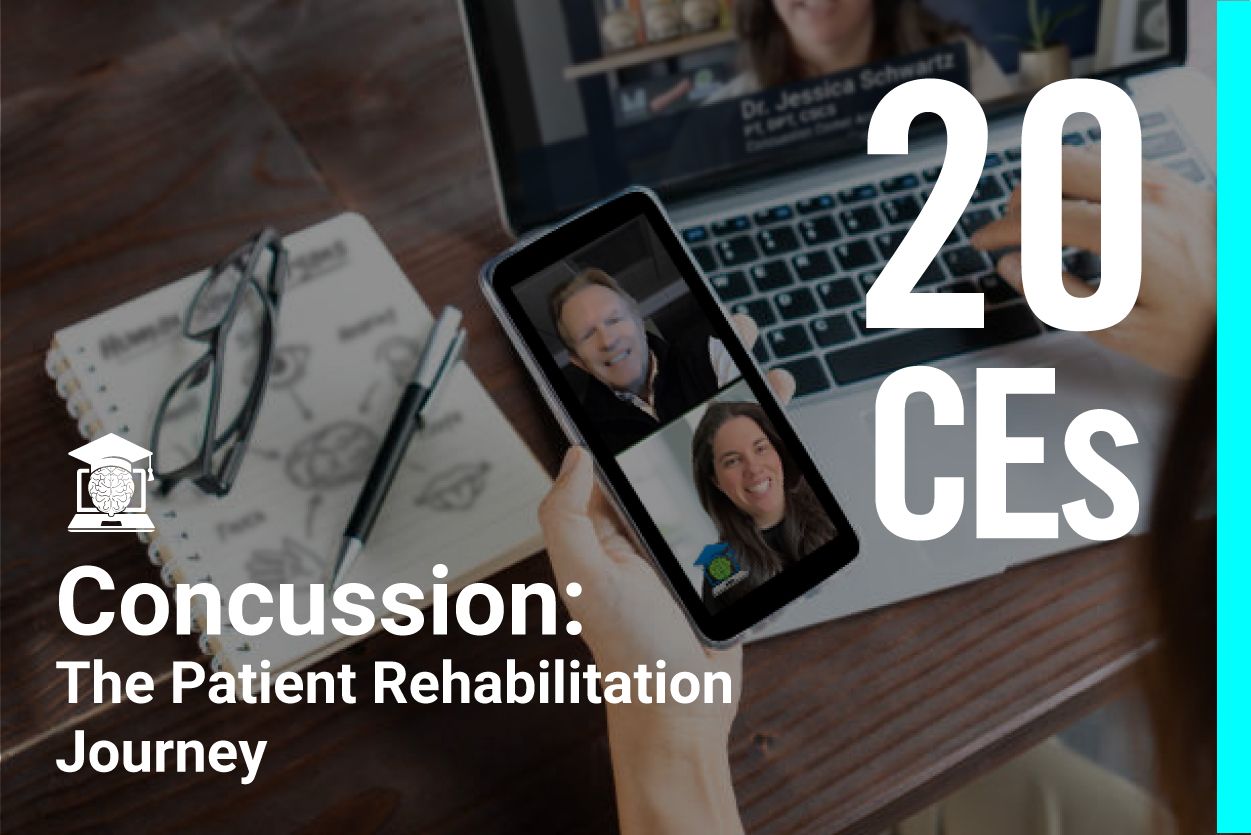 🎓 Scholar
On-demand content with weekly dripped lectures plus optional 1:1 weekly coaching and optional virtual live faculty Q&A.
Start Dates:
Jan | Sep
$997
20 CE Hours

Course Length: 12 Weeks

Pre-Recorded Lectures

Live Faculty Q&A:

Optional

Course Pacing: Dripped Weekly

1:1 Coaching with Founder

Office Hours: 2x/Week

Workload: 1-2 Hours per Week

Post-Course Access: 60 Days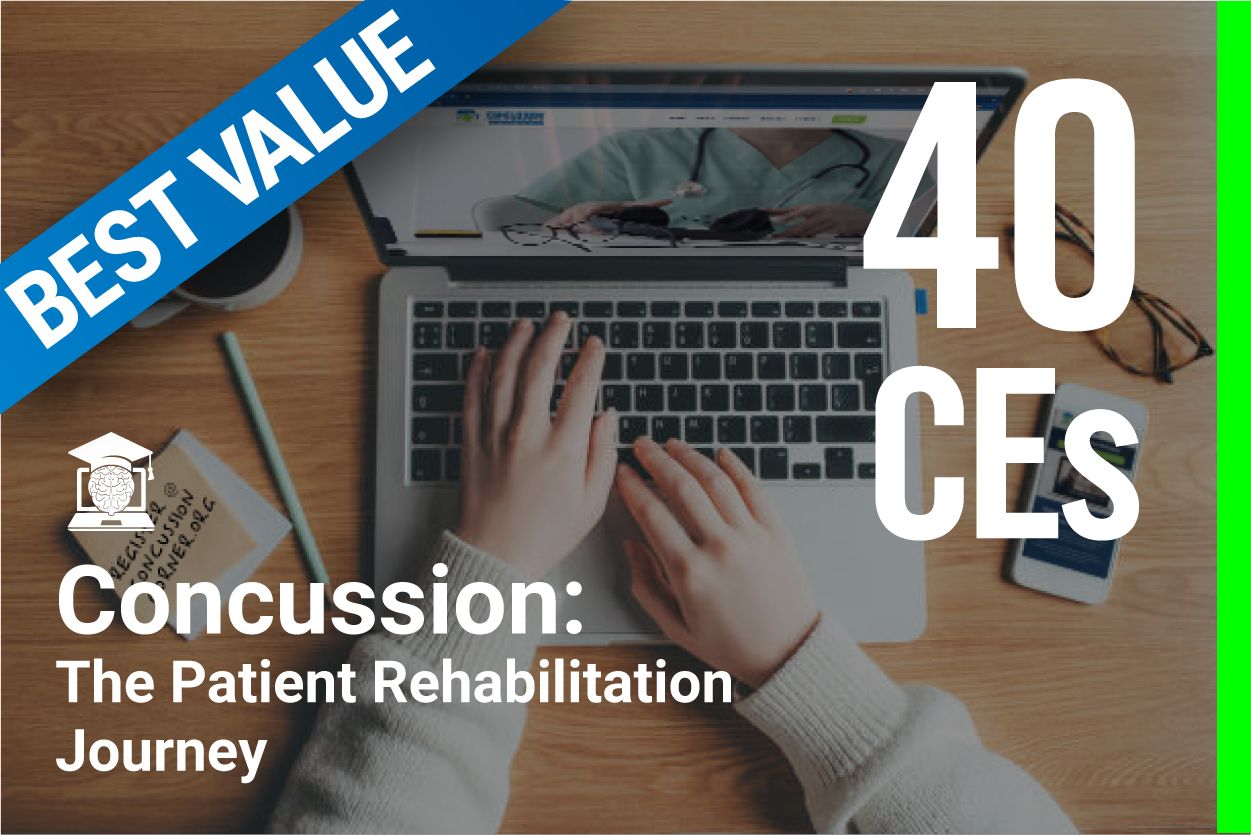 ⭐️ Premium ⭐️
On-demand content with weekly dripped lectures, plus optional 1:1 weekly coaching and required virtual live faculty Q&A.
Start Dates:
Jan | Sep
$1497 $1097
40 CE Hours

Course Length: 12 Weeks

Pre-Recorded Lectures

Live Faculty Q&A:

Required

Course Pacing: Dripped Weekly

1:1 Coaching with Founder

Office Hours: 2x/Week

Workload: 2-3 Hours per Week

Pay Over Time Available

Post-Course Access: 90 Days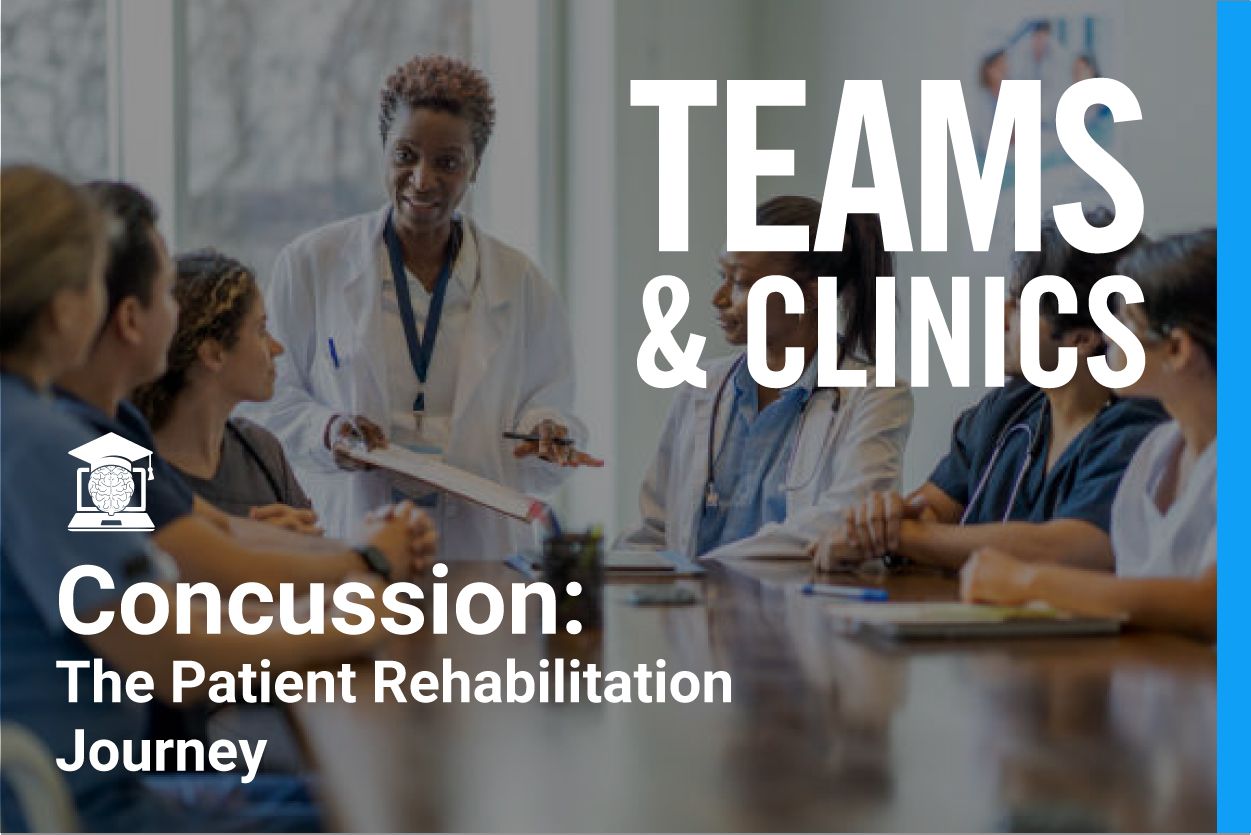 Teams & Clinics
Contact us to learn about our solutions for small business, enterprise and universities.


Start Dates:
Jan | Mar | Jun | Sep
Custom Features:
Tailored Pricing options

Individualized Courses

Flexible Invoicing

Office Hours: 2-3x/Week

Personalized Client Manager

99.95% Server Uptime

Custom Bulk Enrollments

Custom Reports & Services

Prime Support Options

Direct Support to a Disabled Veteran and Our Selected Concussion Non-Profit(s)
World Class Team of Clinician-Scientists
Designed for the Healthcare Professional
COMMUNITY
International Private Graduate Access
We Can't Wait To Meet You!


JOIN OUR WAITLIST 📨

Stay updated | Stay current | Stay connected
17+ hours of pre-recorded dripped lectures
Our asynchronous learning journey allows the working healthcare professional to learn at their own pace, in their own space, and on their own time.
Biweekly online office hours
Our Founder believes that 1:1 mentorship and coaching is the key to lifelong learning and collegial rapport building. For this reason, there will be a minimum of 2 days of virtual office hours to support our students.
18+ hours of direct contact with faculty & founder
Our synchronous learning journey allows the working healthcare professional to join us live for structured Sunday Sips Q&A with our faculty and founder on Sunday mornings at 10 AM EST for 90 minutes.
Locked in pricing for future courses in 2023
We are currently developing The Patient Rehabilitation Journey Part II forecasted for Fall 2023. For those early adopters in our 2022 courses, we plan to thank you and keep you locked into the $997 pricing for 2023.
Concussion Corner Academy® Courses
Who Should Attend
The Concussion Corner Academy 12-week program is designed for the working healthcare professional who is seeking virtual support, community, and top-notch educational leadership in the concussion sector. We will deliver synchronous and asynchronous online education directly from world class clinician-scientists who are actively publishing and treating concussion patients.
The ideal participants to benefit the most from this knowledge will be the healthcare professionals specialized in:
Physical Therapists

Speech Therapists
Athletic Trainers

Physician Assistants
Designed for the Working Healthcare Professional
We deliver synchronous and asynchronous online education directly from world class clinician-scientists who are actively publishing and treating concussion patients.

This series of lectures will be supported by live question and answer Sunday Sips forums from our faculty on Sunday mornings at 10:00 AM EST for 90 minutes.

There will be online office hours, group coaching sessions, and bonus material as we build Phase I and II of CCA® in order to serve the healthcare community.

We are IRB approved to study our students learning retention and application for next day knowledge translation in order to achieve the gold standard in education while providing 20-40 hours of CE to Physical Therapists, Occupational Therapists, and Athletic Trainers in all 50 states*

*applied
Educational quality and outcomes are important to us. Throughout the process of this educational opportunity you will be requested to complete survey's specific to your self-efficacy or confidence in your ability to evaluate, manage and provide intervention to patients who have sustained a concussion. This information will be independently studied and used for quality improvement and educational research purposes to support our international concussion educational initiatives.
Pediatrics
Weeks: 1-2
Instructor: Christina L. Master, MD, FAAP, CAQSM, FACSM
Topics: History and Physical Examination, Visual and Vestibular Examination, Active Rehabilitative Management, Referral Network, Physician Acute, Subacute, and Persisting Symptom Rehabilitative Management.
Weeks: 3-4
Instructor: John J. Leddy, M.D.
Topics: Physiology of Concussion, Differential Diagnosis, History and Physical Examination, Physical Examination*, Treadmill Testing*, Bike Testing*, When and Whom to Test, Referral Network, Symptom Generators, Acute, Subacute, Persisting Symptom Rehab Management.
*University of Buffalo Concussion Protocols

Physical Therapy Examination
Weeks: 5-6
Instructor: Lenore Herget, PT, DPT, SCS, MEd, CSCS
Topics: Functional Concussion Examination- Ocularmotor, Vestibular, Cervical Spine, and Exercise Testing Considerations; Ocularmotor Treatment, Vestibular Treatment, Cervical Spine Treatment.



Physical Therapy Intervention
Weeks: 7-8
Instructor: Becky Bliss, PT, DPT, DHSc
Topics: Physical Therapy Rehabilitation Planning, Tapering, Pacing, Individual and Multi-System Intervention Planning.

Return to Learn
Weeks: 9-10
Instructor: Brenda Eagan-Johnson, ED.D., CBIST
Topics: The Adult vs Pediatric Brain, Concussion vs mTBI, IEP's vs 504's, Negotiating Educational Infrastructure Language for the Healthcare Provider, Determination of Symptom Based Academic Support, Academic Management of the first 4-6 weeks Post-Concussion and Beyond, Action Steps.

Athletic Training 101
Weeks: 11-12
Instructor: Dustin J. Fink, MS, ATC
Topics: Role of the Athletic Trainer, Referral Network, Sideline Concussion Screening, Acute Training Room Evaluation, Communication with Parents, Teachers, Friends, et al. ; Progression of the Acute Non-Complex Recovery vs the Complex Recovery Concussion Student-Athlete; Informed Consent; Student-Athlete Needs Tailoring From Classroom To Field.



Christina Master MD, FAAP, CAQSM, FACSM
CLINICAL PROFESSOR

Professor of Clinical Pediatrics
University of Pennsylvania School of Medicine
John J. Leddy MD, FACSM, FACP
CLINICAL PROFESSOR

University at Buffalo SUNY, Dept. of Orthopaedics
Jacobs School of Medicine & Biomedical Sciences
Lenore Herget PT, DPT, SCS, MEd, CSCS
PHYSICAL THERAPIST

Sports Physical Therapist at MGH
Concussion Rehab Consultant at Harvard / MGH
Becky Bliss, PT, DPT, DHSc
ASSISTANT PROFESSOR
University of Missouri, Dept. of Physical Therapy
Board Certified Neurological PT

Brenda Eagan-Johnson ED.D., CBIST
TBI NEURODEVELOPMENTAL CONSULTING
BrainSTEPS Child and Adolescent
Brain Injury School Re-Entry Program
Dustin J. Fink MS, ATC
ATHLETIC TRAINER
Illinois High School Association
Sports Medicine Advisory Committee
Program Faculty
Christina L. Master, MD, FAAP, CAQSM, FACSM
Dr. Master is Professor of Clinical Pediatrics at the University of Pennsylvania Perelman School of Medicine and Associate Program Director of the Primary Care Sports Medicine fellowship at CHOP with over two decades of experience in clinical pediatrics. Dr. Master graduated from Princeton
University in 1989 with a degree in molecular biology and obtained her medical degree summa cum laude from University at Buffalo School of Medicine and Biomedical Sciences. She completed her residency and chief residency at The Children's Hospital of Philadelphia from 1993-1997. She was Vice Program Director of the Pediatric Residency Program at The Children's Hospital of Philadelphia for 17 years and subsequently completed a sabbatical year of fellowship training in primary care sports medicine at The Hospital of the University of Pennsylvania. Dr. Master is board-certified in pediatrics and brain injury medicine with additional qualification in sports medicine and treats over a thousand youth with concussion annually in her outpatient practice. She is co-founding director of Minds Matter, the concussion program for children at CHOP that provides clinical care, community outreach and conducts research in youth concussion and the founding course director for the CHOP Minds Matter Concussion Conference. Her particular research emphasis has been describing the epidemiology of pediatric concussion and identifying vestibular and visual deficits following concussion as a target for intervention for those with prolonged symptoms. Her research on the use of functional near infrared spectroscopy and concussion won Best Overall Research Award, American Medical Society for Sports Medicine (AMSSM) in 2017 and is Co-Principal Investigator on the first AMSSM Collaborative Research Network (CRN) grant investigating the role of early exercise following concussion. She enjoys playing the piano, running, swimming and cycling and has completed marathons in Munich, Philadelphia, Budapest and NYC as well as a few triathlons at the sprint and olympic distances. She is the mother of three busy children who participate in activities including ice hockey, basketball, track and field, robotics, debate and HiQ.
Program Faculty
John J. Leddy, M.D.
As a primary care sports medicine physician, my goal is to provide the best evidence-based evaluation and treatment practices to patients with concussion and post-concussion syndrome and to conduct clinical and physiological research on these conditions. I currently serve as medical director of the University at Buffalo Concussion Management Clinic, which is located at UB South Campus. This is the first center in the United States to use a standardized treadmill test to establish recovery from concussion and to use exercise in the rehabilitation of patients with prolonged concussion symptoms. I'm also the director of outcomes research for the Department of Orthopaedics and program director for the UB Primary Care Sports Medicine fellowship.My primary research interest is the investigation of the basic mechanisms of the disturbance of whole body physiology in concussion and how to help to restore the physiology to normal to help patients recover to safely return to activity and sport. I have published in the fields of orthopedics, sports medicine, physiology, nutrition, concussion and post-concussion syndrome.As a professor of Clinical Orthopaedics, Internal Medicine, and Rehabilitation Sciences at the University at Buffalo School of Medicine and Biomedical Sciences, I enjoy educating the next generation of physicians. I am proud to say that the educational experience at UB exposes young physicians to exceptional patient care based upon the latest research and that their experience is informed and enhanced by immersion in the research experience itself.
Source: University at Buffalo, Jacobs School of Medicine and Biomedical Sciences
Program Faculty
Lenore Herget, PT, DPT, SCS, MEd, CSCS
Dr. Herget is a Senior Physical Therapist, Board Certified Sports Clinical Specialist, Certified Strength and Conditioning Specialist, Certified Clinical Instructor and Certified Emergency Medical Responder at the MGH Sports Medicine Center. She is a member of the New England Patriots Medical Staff and serves as the Concussion Rehabilitation Consultant to the Boston Bruins, Boston Red Sox, New England Revolution, Boston Celtics, Home Base Program, Special Operator Program and the MGH Sports Concussion Clinic.

She received her Bachelor of Arts degree in Theatre and Psychology from Wheaton College in 2000, her Masters in Education degree from SUNY in 2005, her post baccalaureate pre-med certificate from Hunter College in 2006 and her Doctor of Physical Therapy degree from MGH Institute of Health Professions in 2009.

Dr Herget's practice includes rehabilitating athletes who have sustained a sports concussion, most specifically evaluating and treating high school through professional level athletes with concussions and assisting in their safe return to play. Her clinical expertise is in the cervicogenic contributions and visuo-vestibular treatment of athletes and military personnel who sustain concussions as well as the progression of exercise through exertional protocols. Her research has focused on management of athletes with post-concussion syndrome and the efficacy of pre-season and post-season visuo-vestibular testing to aid in return to play decision making, differentiating between concussion and cervicogenic symptom presentation, alternative exercise testing protocols, atypical mTBI presentations and considerations in the military population. She has lectured nationally on the topics of concussion and the non-acute management of athletes with post-concussive syndrome.
Program Faculty
Dustin J. Fink, MS, ATC
Dustin is a certified athletic trainer (ATC) licensed in the state of Illinois and has been practicing as an outreach athletic trainer for hospitals and secondary schools for the past 20 years. Dustin received his undergraduate degree from Colorado State University - Pueblo in Biology (Sports Medicine emphasis) and went on to achieve his Masters in Health & Exercise Science from Colorado State University. During his formative years of a high school athletic trainer Dustin gravitated to concussions as an issue he was seeing. Not only the injury itself, but the treatment and recovery from.

Dustin has endured many concussions being an athlete and skier growing up. This led him to creating his website, theconcussionblog.com, where he aggregated all the common information for the assessment and treatment of concussion to keep "everyone on the same page". Dustin has spent over 7,000 hours researching and understanding concussions including continual education on the matter. His ability to be a conduit between the scholarly information and the actual patient and their caregivers make him unique in this field.
Program Faculty
Brenda Eagan-Johnson, EdD, CBIST
Brenda Eagan-Johnson Ed.D., CBIST has over two decades of experience in the field of pediatric brain injury, education, and neuro-developmental issues in children. Dr. Eagan-Johnson is instrumental in the creation, ongoing development, and daily oversight of the nationally recognized Pennsylvania statewide child and adolescent brain injury school consulting program, BrainSTEPS – Brain Injury School Re-Entry Consulting Program. She also serves as a consultant for a Centers for Disease Control and Prevention funded study related to BrainSTEPS outcomes led by CWRU and OSU. Through her work, Dr. Eagan-Johnson regularly trains medical, rehabilitation, and school staff on the identification, symptoms, and educational treatment methods to improve cognitive, executive function, behavioral, social, and communication skills, as well as transition strategies, for students who sustain acquired brain injuries.

Dr. Eagan-Johnson received her master's degree in transition special education specializing in pediatric brain injury from George Washington University, where she has served as an adjunct instructor since 2015. She holds a Doctor of Education degree in Mind, Brain, and Teaching (educational neuroscience) from Johns Hopkins University. Dr. Eagan-Johnson serves on the Board of Governors for the Academy of Certified Brain Injury Specialists under the Brain Injury Association of America. In this position, she is helping to write the pediatric portion of a new national concussion certification. She has held a Certified Brain Injury Specialist certification since 2008 and is a CBIS Trainer. Dr. Eagan-Johnson has three teaching certifications and serves on three national advisory boards. Dr. Eagan-Johnson is published in pediatric brain injury, regularly presents at the national and international levels, and has received multiple awards for her work. She was the co-lead for the 1st Concussion Return to Learn Consensus for the National Collaborative on Children's Brain Injury, which is endorsed by 12 national organizations. Spearheading development and creation of Pennsylvania's Return to Learn Concussion Management Team Model, now endorsed by two State Departments of Education, Dr. Eagan-Johnson has trained over 3,000 school-based concussion teams since 2013.

Dr Eagan-Johnson has been asked to speak many times for Pennsylvania's Legal Aid Network and Neighborhood Legal Services. Over the past decade, she has been an invited speaker numerous times for the federal organization that oversees state civil legal aid in Washington, DC, including Congressional and Senate panel briefings and audiences of supreme court justices, where she advocated for legal aid for victims of IPV & child abuse. Dr. Eagan-Johnson served on the board for her local Crisis Shelter and is a member of the ENIGMA Brain Injury IPV group. Her passion in this field began when she was 14 years old and her 13 year old brother sustained a severe TBI.
Program Faculty
Becky Bliss, PT, DPT, DHSc
Becky Bliss, PT, DPT, DHSc has been actively practicing in the field of Physical Therapy for over two decades with specialization in concussion management since 2006. Her research interests include dysfunction of the vestibular ocular reflex following mild traumatic brain injury (mTBI) as well as early detection of impairments that lead to post-concussion syndrome. She currently has several active studies specific to higher level motor control deficit identification in the sport athlete. Dr. Bliss is active within the Academy of Neurological Physical Therapy and serves on the Knowledge Translation Committee for the Concussion Clinical Prediction Guideline (CPG) while serving on part of the core committee of the American Physical Therapy Association (APTA) Concussion CPG Revision group.
Dr. Bliss is a Clinical Assistant Teaching Professor in the Doctor of Physical Therapy program at the University of Missouri and is a board certified in Neurological Physical Therapy. She also serves the role of Program Coordinator for the Neurological Physical Therapy Residency. She holds her Certificate in Vestibular Rehabilitation from the APTA, as well as Advanced Vestibular Certificate and is an Impact Trained Physical Therapist. Dr. Bliss graduated from Ithaca College Department of Physical Therapy with a combined undergraduate-graduate Master of Physical Therapy in 2001. She completed her Doctorate in Physical Therapy from Des Moines University in 2014 and her Doctor of Health Science from the University of Indianapolis in 2019.
Program Faculty
Jessica B. Schwartz, PT, DPT, CSCS
Dr. Jessica Schwartz PT, DPT, CSCS is an award winning orthopedic residency trained doctor of physical therapy, a National Spokeswoman for the American Physical Therapy Association, Founder of Concussion Corner Academy®, host of the Concussion Corner Podcast, and a post-concussion syndrome survivor, advocate and concussion educator.

After spending a full year in rehabilitation, experiencing the profound dichotomy of being both doctor and patient, Dr. Schwartz identified the gaps in concussion treatment and management in the global healthcare community. Her role has been to identify the cognitive blind spots for healthcare providers, physicians to athletic trainers, focusing on comprehensive targeted physical examinations, rehabilitative teams, and concussion care management.

Her vision is to facilitate collective competence across the healthcare continuum in order to better identify, treat, and care for the concussion patient of today while putting the "care back into healthcare" for this underserved patient population.

Dr. Schwartz hopes that by educating each other about the multi-system nature of these injuries and the scopes of practices of the multidisciplinary providers that have access to and have the ability to care for this cohort of patient, she will be able to facilitate a better patient-clinician encounter.

By speaking candidly about her experience with post-concussion syndrome, she hopes to facilitate learning from provider to provider, patient to provider, and caregiver to provider honing in on the power of storytelling and collegial communication from a place of candor, curiosity and enthusiasm.